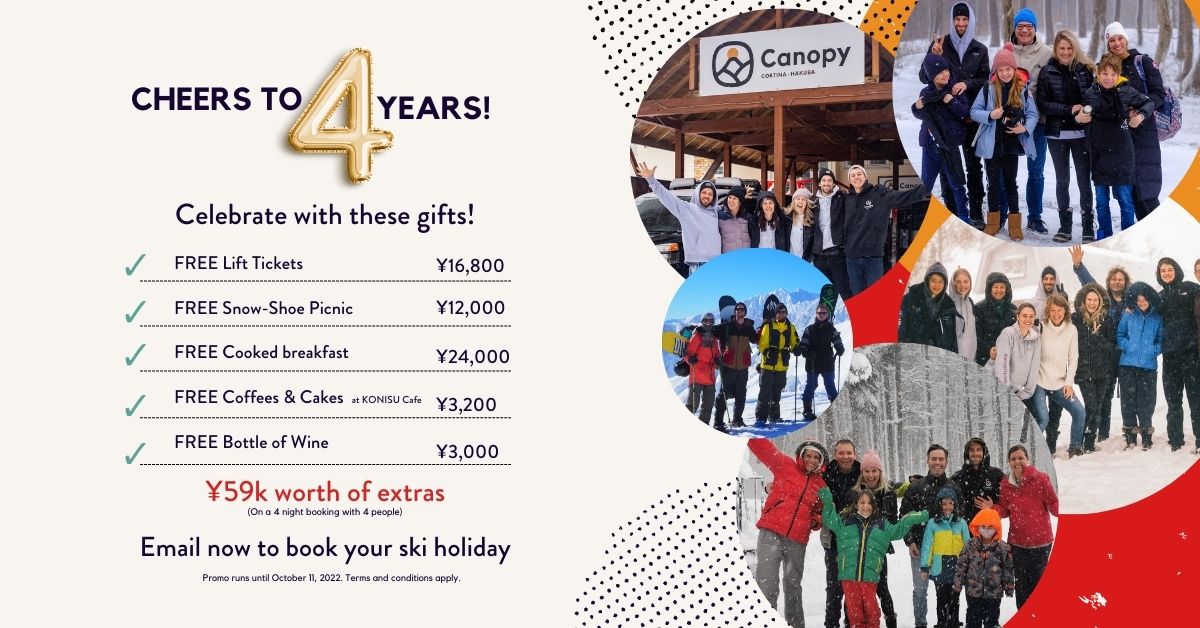 You are invited!
Canopy Cortina is inviting you to celebrate its 4th birthday with some offers designed to get you in the holiday spirit.
When you book a holiday with us at Canopy Cortina Lodge we'll throw in these extras:
Free Lift Ticket for everyone at Cortina Ski Resort
Complimentary Cooked Breakfast Daily
Free snowshoe package with a picnic
A Coffee & Cake from Konisu Cafe for everyone
1x Bottle of Wine upon arrival 
To get the gifts:
Send us an email with the number of adults and children (and kids ages) and your preferred dates of stay. 
Get your quote with gifts included
Pay the deposit before the 11th of October to secure your booking.
Get ready for a magnificent holiday
What you need to know:
Bookings are for a minimum of 4 nights
Only valid for bookings for Japan's 2022/23 Winter
This promo is not available for stays between 18th December 2022 – 3rd January 2023 or 20th January 2023 – 1st February 2023.
Not applicable with any other offer.
The offer is subject to availability – We reserve the right to change the details of the offer or the gifts provided.
The Gifts:
Lift Tickets – Everyone in your travelling party will receive 1x free Cortina Lift Pass, only be valid at Cortina Ski Resort.
Cooked Breakfast – Usually ¥1,500 per person, the full Canopy Breakfast will be included for everyone, every day during your stay. Only valid within breakfast hours.
Snow Shoe Package – A self-guided snow-shoe walking tour through the forest at Cortina. You can access this directly from Canopy Lodge. You'll be provided with snow-shoes, and a picnic prepared by the Canopy Kitchen to enjoy on your walk. The walk follows an easy trail. Keep an eye out for the locals – birds, Tanuki and Kamoshika! Book your walk in with reception upon arrival. This is subject to availability of snow shoes, and weather dependent.
Coffees & Cakes – You'll receive 1x coffee & 1x cake, brownie, pastry or cookie, for everyone in your travelling party, at Konisu Cafe at Cortina Ski Resort.
Wine – A celebratory bottle of wine will be provided to you on your day of arrival.
Thanks for being apart of the Canopy Journey.
We look forward to creating an increble ski & holiday experience for you at Canopy Cortina Lodge.
Send us an enquiry now with reference to the Birthday Special.
To your next great adventure,
Mike & Emily