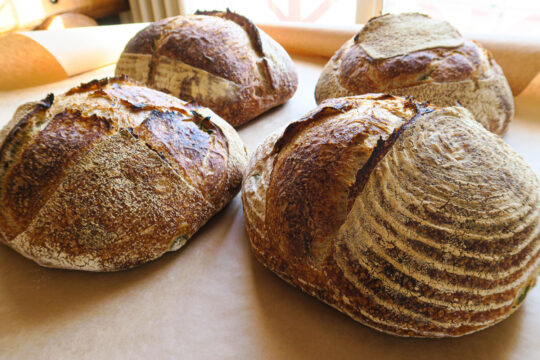 Hakuba Sourdough
For the period July to October 2021, please contact us directly to order our sourdough products.
Have you been trying to find delicious & nutritious artisan bread in Japan?
Do you want some healthy whole-grains in your bread? We now bake naturally-fermented, slow proved sourdough bread in the Canopy Cortina Lodge Kitchen in the Hakuba Mountains. We use Grains Grown in Japan & fresh mountain water.
Order your Sourdough Bread here
Our bread carries the sweet character and chewy texture of natural fermentation with a subtle, balanced acidity. We believe that old fashioned, naturally leavened bread carries a scent of nourishment and will leave you feeling happy inside. See below for available products.
Fig and Walnut loaf

Working the dough

Stretching the dough

Croissants

Cinnamon Rolls

Ciabatta

Checking the sourdough

Rye Loaf

Sourdough Selection

The Bread Man

Oatmeal cookies